For roads and highways lighting
The improving quality, efficiency and convenient management of road network are the important issues of the national program of modernization and development of automobile roads in Russian.
«Unilight», the street lighting control system can successfully solve all these tasks. The implementation of this system greatly improves the quality of lighting and convenience of network lighting control, the safety performance of roads, moreover, energy savings will reach 50%.
The implementation of «Unilight» system allows you automatically and smoothly  support street lighting in working order due to network online monitoring and operational troubleshooting capabilities. In practice this means:
Improving safety of the road;
The lack of penalties for defective lamps from the traffic police and other supervisory inspection bodies;
Efficient and energy-saving lighting control of danger zones on the road (pedestrian crossings, intersections, etc.);
Expansion of «smart road» functionality: intelligent traffic lights, pedestrian crossings smart, SOS button, traffic sensors, illumination, weather sensors.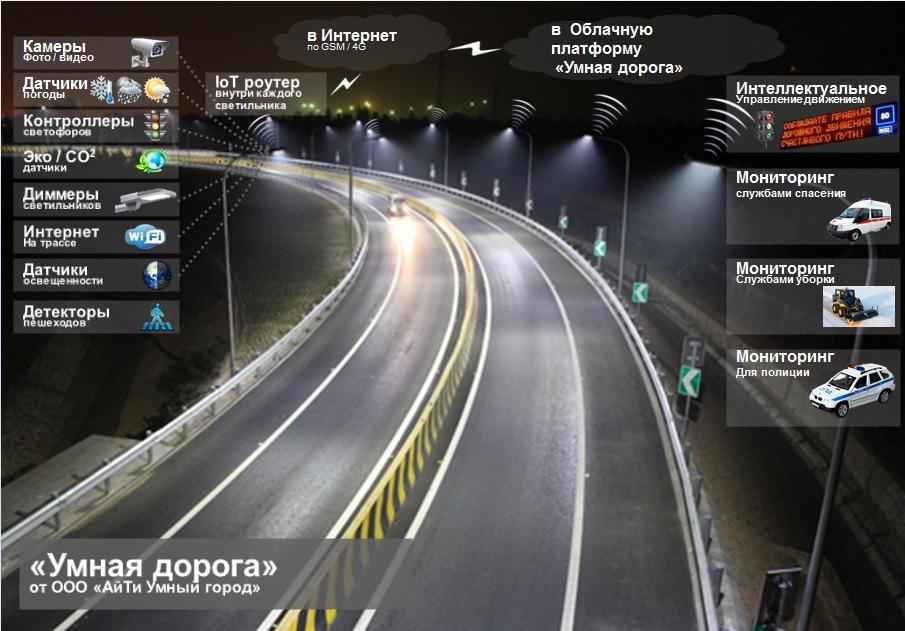 «IT Smart City» company is ready to implement complete solutions for road lighting control systems, including an analysis of the lighting, the calculation of the economic effects of the introduction of the system, a partial or a complete redesign of the lighting network  with  control and dimming  opportunity (adjustable luminous flux).