Road surface condition sensor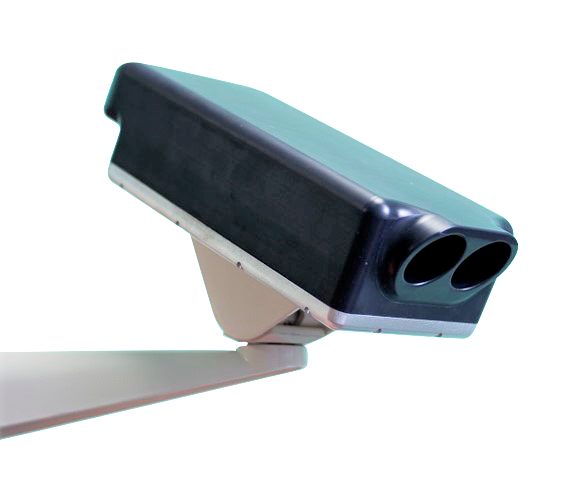 Sensor is used to control:
water layer thickness
water layer thickness
snow layer thickness
ice layer thickness
Measurements are taken continuously (24 hours a day), collected data is transmitted at certain intervals or by request.
Sensor is a compact module that is attached to the pillar at the height of 5 to 10 meters.
The data received is used to manage snow removal, anti-icing coating application and to determine whether cleaning is necessary. Warnings over road conditions can be displayed to drivers on special information panels. Using the data improves road safety and road maintenance quality, reduces maintenance costs and the number of complaints and fines.
 Software
The road condition monitoring system is a part of Unilight platform. One interface makes it possible to
use AOLCC, automated power metering system etc.
Archive data can be presented as a table or a graph. Reports can be downloaded in Excel, PDF and other formats.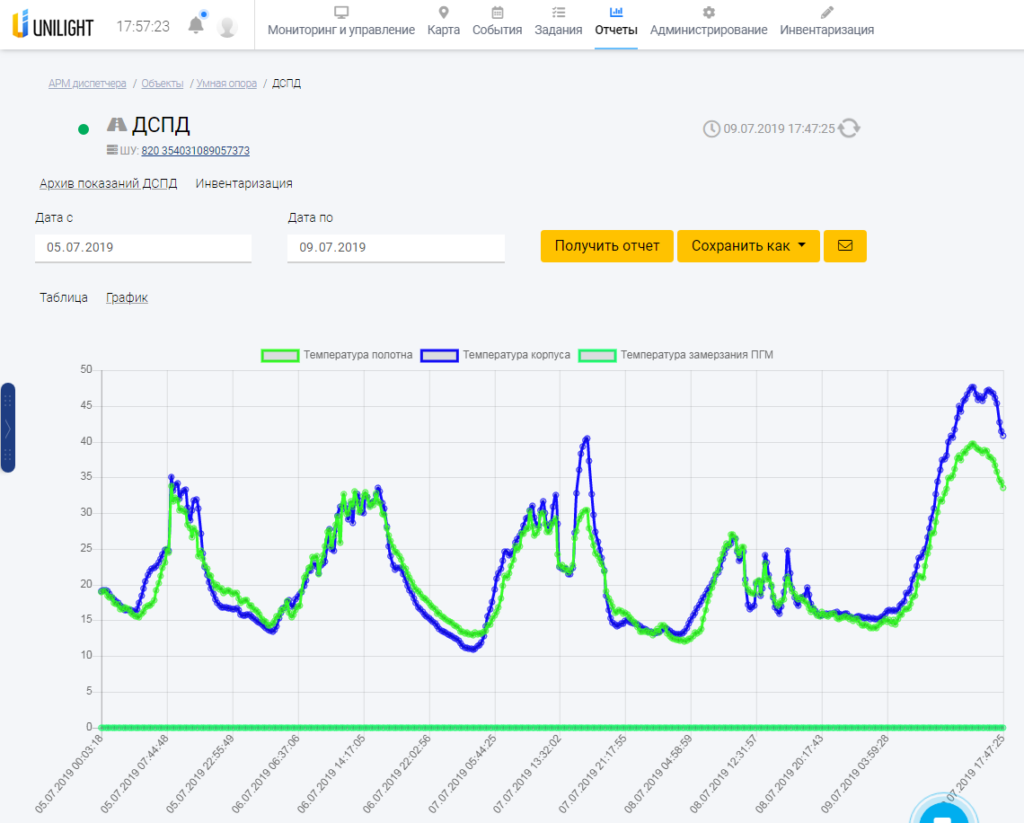 Metrological and technical characteristics
Road surface temperature
Method
pyrometer
Measurement range
from -50°C to +70°C
Accuracy
+0.8°C
Graduation
0.1 °C
Anti-icing coating density on the road
Measurement range, %
0-23
Percentage of ice in snow and ice mixture
Measurement range, %
0-100
Road condition
Dry, wet, mud, snow, ice, snow and ice, chemical reagents presence
Adhesion/friction
Measurement range 0:1 (slippery:dry)
Layer thickness
Water/snow/ice
Method
optical
Measurement range
water: 0…10mm
ice: 0…10mm
snow: 0…20mm(DSPD-M, snow:0…12m)
Graduation
0.01 mm
Technical characteristics
Size, mm
227х60х98
Weight
1.5 kg
Accelerometer
Included, it's possible to determine pillar vibrations and changes in the sensor position (if it is necessary to recalibrate it)
Vibration graduation
0.001g
Angle graduation
0.1º
Operating conditions
Supply voltage
7-35/PoE(42-60V)
Power consumption
5W
Working temperature range
— 50ºС to + 70 ºС
Protection type
IP65
External interfaces
RS485, EthernetPoE
Remote software updates
Possible through Ethernet
Device to facilitate surface targeting
Laser, a bright green dot on the surface