Smart greenhouse
System allowing you to control each individual lighing instrument ensuring every watt of energy is consumed to increase your crops
Download presentation
Advantages
Now you can control the climate inside the greenhouse and give the plants as much light as They need. «Unilight Green» smoothly adjusts the level of illumination in the greenhouse to maintain uniformity of light.
Adapting the light level to the needs of the crop
Monitoring of luminaire performance
Ability to integrate the system into existing fixtures
Possibility of combining several greenhouses
Centralized management from a single control
Automatic or manual control of the control system
Communication with the lamps is carried out via the DALI interface, which allows you to turn on / off the lamps, dim them and get all the information that can be read. For example, lamp power, mains voltage, driver temperature, and more.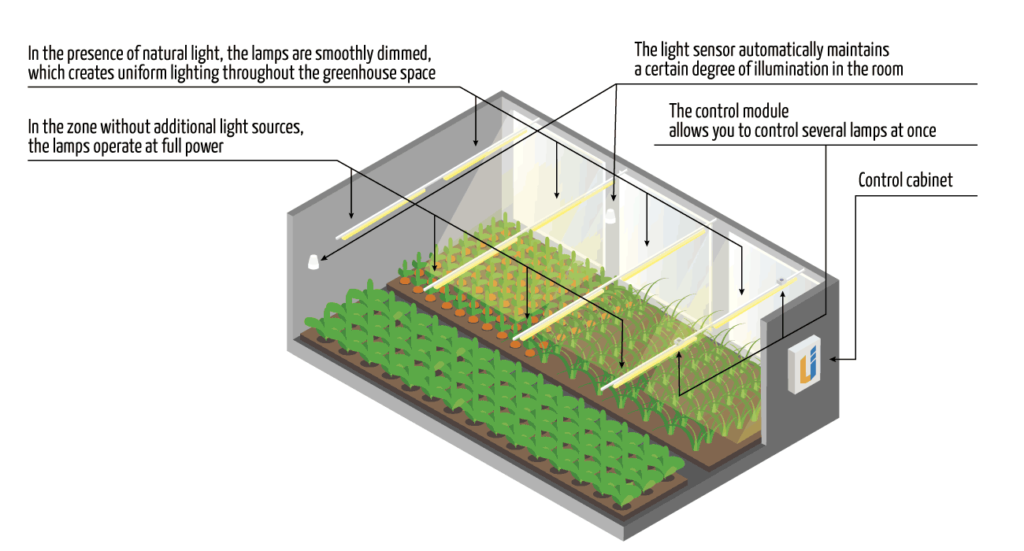 Composition of the «Unilight Green» system»:
— 1 module can simultaneously control 64 lamps
— Wireless control of each lamp
— No additional communication channels are required
— Lamp dimming from 0 to 100% — Built-in light sensor
— Simple and user-friendly interface
— Remote control
— Archiving of events
— Formation of reporting documents
— Control of the lamp's operating parameters
— Predicting the period of failure of the lamp
— Notifications
Indication of the following equipment parameters:
— Lamp type
— Lamp power
— The actual voltage of the lamp
— Lamp voltage according to specification
— Lamp operating time
— Count the life cycle of the lamp
— The alarm overheating of the driver
— Actual network voltage
— Lamp failure alarm